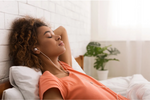 Podcasts to Listen to for great self-care
Let's face it: we all have those days (sometimes weeks) when we aren't giving ourselves the hype and self-love that we deserve!  Whether you are missing family, a daily routine, or just feeling like yourself, its times like these, when it's vital to step back and feel the self-love.
If you're feeling it, she's saying it! Based in LA, Lauren Elizabeth is giving us a podcast for every mood, every Wednesday. She has no shame in telling you her best and worst moods of the week – in the most hilarious and honest way. She puts her most genuine self forward and gives her listeners authentic and comforting advice about what she is going through. We guarantee, this pod won't make you feel so isolated with the ups and downs of your mood. The #MyMood segments are also the absolute best – we can't recommend this pod enough!